Impressive GCSE Results at The John of Gaunt School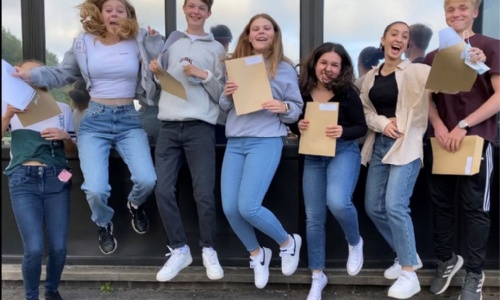 In an unprecedented year, The John of Gaunt School are delighted to report the outstanding achievement of their students.
This year, following the cancellation of exams, grades were awarded through a process of teacher assessed grades, against a national standard and approved and awarded by the exam boards.
Despite the challenges of the pandemic, students performed exceptionally well in their GCSE and Vocational qualifications.
Ruby Taylor gained a remarkable set of results, securing the highest grade of 9 in all ten of her subjects, this means that she is one of just a few students across the country celebrating a perfect performance. Mrs Taylor, Ruby's mum said, 'I'm speechless, she has worked so hard and absolutely deserves it. She has worked her socks off through all the lockdowns and our family could not be any prouder of her, we are so grateful to the school for all their hard work and support for her'.
Other students securing exceptional grades are Georgia Stevens and Tyra Donaldson. Georgia gained eight grade 9's, one Level 2 distinction* and one grade 8, with Tyra celebrating her seven grade 9's, a grade 8 and two grade 7's. Mrs Stevens, Georgia's mum said, 'It's fabulous, she is absolutely amazing, she has worked so hard and really deserves her results'.
Also celebrating are Harry Peters and Imogen Wood, with Harry gaining six grade 9's, three grade 8's and one grade 7 and Imogen gaining five grade 9's, three grade 8's, one grade 7 and 1 grade 6.
All these students are now excited to stay at John of Gaunt Post-16 to study for their A-Levels.
In addition to those students attaining top grades, The John of Gaunt School is also extremely proud to be celebrating those students who have made exceptional progress. Charlotte Pashley, Daniela Mekarska, Daisy Hayes, Charlie Batt, Ami Batten and Annabella Simeonova have all made truly outstanding progress, and all plan to stay at John of Gaunt Post-16 to continue their studies.
Abbie Lanng, Assistant Headteacher said, 'I am so pleased for our students and parents. We are delighted that the future of our Year 11 students looks so exciting. They have achieved a wonderful set of results which is testament to their hard work and resilience.'
Paul Skipp, Headteacher said, 'This is a truly remarkable set of Year 11 students who have worked incredibly hard both within school and out of school. We recognise that the pandemic has been a really challenging time for our whole school community but we are delighted to see that the students' positivity, dedication and hard work has enabled them to achieve a fantastic set of results, they should all be very proud of their achievements. Staff, students and parents have worked tirelessly together this year and I am delighted that the futures of our Year 11 students looks so exciting. As a school we continue moving from strength to strength, we have a lot to celebrate and are now looking forward to even further success'.