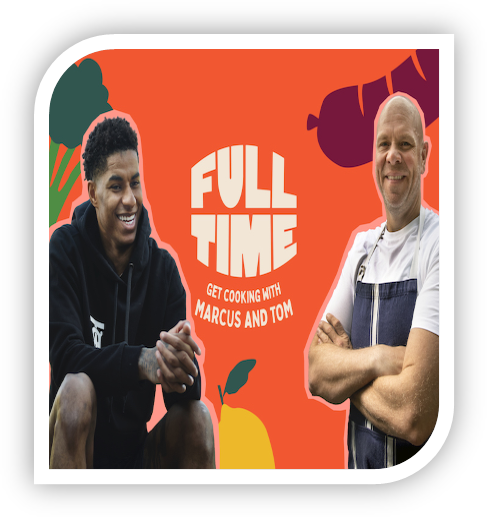 FULL TIME MEALS [@FullTimeMeals]
https://tomkerridge.com/full-time-meals/
Supporting the nationwide initiative #EndChildFoodPoverty
Marcus Rashford and Tom Kerridge want to help give children and families the skills and confidence to cook good, proper food in their own kitchens, using the equipment available to them. Encouraging them to be creative, have fun and spend valuable time together cooking and eating.
Tom has created 52 pocket friendly and seriously tasty recipes that the whole family can cook; dishes to fill hungry tummies. These recipes are simple and easy to follow with emphasis on limited equipment and inclusion of store cupboard goods with a longer shelf life.
Every Sunday morning, they will launch a new cook-along video on their Instagram page. Follow @FullTimeMeals to access all cook-along videos featuring Tom, Marcus and famous friends.
You won't need a load of ingredients, equipment, or skill. Just head to your local supermarket or corner shop grab the ingredients and cook up some mega tasty meals!