The Word festival culminates in belated celebration of World Book Day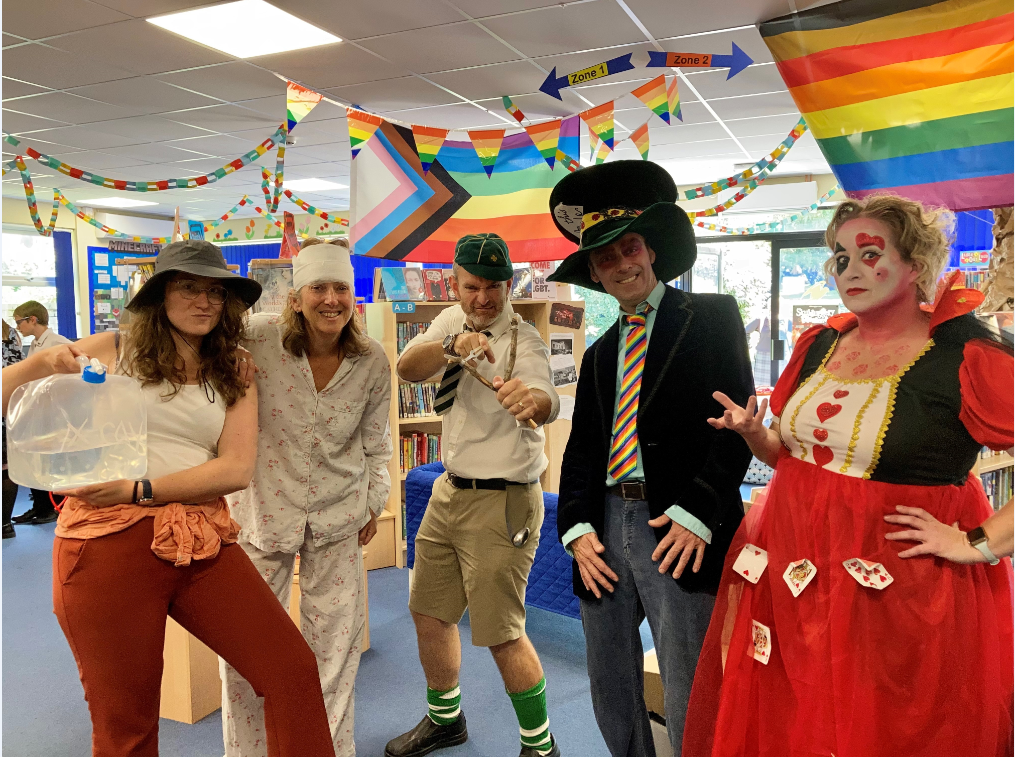 We are thrilled to have staged a new festival called The Word, which celebrated the joy of the spoken and written word across year groups with a mix of major events and fringe activities. Students enjoyed headline sessions with champion slam poet, Ash Dickinson and, Carnegie Shortlisted Author, Chris Vick. The final event of the festival was a belated celebration of World Book Day.
On Monday 12th July, the spirits of some 200 year 8 students were lifted by Ash Dickinson's energised poetry performances of 'Page Against The Machine', 'Mango, The Reading Retriever' and 'Shadow Boxing Snowflakes'. Using the format of the Spanish Shadorma, he then coached the children in crafting poems ranging from England's defeat in the Euros, unusual pets and plastic in our oceans. Prizes were awarded to those who showed the courage to read their poems and to those who crafted the most inspired work.
Ash comments: "This was only my ninth face-to-face visit since the pandemic struck - under normal circumstances I might have achieved that in a fortnight. Accordingly, I was as happy to see them as Year 8 seemed to be to see me. Certainly they used the catharsis of poetry to ease the heartache of England's Euros defeat the night before! Some terrific poetry was written in a short space of time."
On Tuesday 13th July, Chris Vick delivered engaging author talks to year 7 and year 9 students. Covering his life as a writer and his love of surfing, Cornwall and Morocco, he guided students on the essential ingredients of stories. Students asked an array of questions from finding inspiration to getting published. Many year 7s had copies of the acclaimed Girl. Boy. Sea. for Chris to sign.
In addition, a trip to see the terrifying The Woman in Black at Theatre Royal in Bath saw 45 year 10 students gripped by the ghostly plot. Dr. Clayton, trip organiser, praised the students for their excellent theatre etiquette, adding: "After the long closure of the theatres, it was heart-warming to see our students literally on the edge of their seats, fully engrossed in a live performance."
On Wednesday 14th July, the festival culminated in a celebration of The World Book Days missed to Covid, seeing staff dressed up in literary costumes. With 300 nearly new teen books donated, a Book and Bake Takeaway was also held in the library. Ulrika Bruton, Learning Resources Manager and The Queen of Hearts, says: "We hope students will be inspired to keep reading over the summer – especially those who may not have access to many books at home."
A central activity across the festival was a competition for students to write 100 words on the falcon – the school's majestic icon and royal badge linked historically to John of Gaunt. £35 in vouchers for each year group were given to the strongest entries.
Headteacher, Paul Skipp, concludes: "It was fantastic to see our students engaging so well with the visiting authors and poets. I extend my thanks to Garston Vets www.garstonvets.co.uk Tymbark Supermarket, and We Love Pets Trowbridge www.we-love-pets.co.uk/areas-covered/trowbridge for sponsoring The Word. Hopefully, the festival will grow year-on-year.
Next…our end of term Activities Week."