Dear Parents and Carers,
Finally, this week our fabulous Year 11 have finished their last exam. As we know this year group have had the pandemic disrupt much of their GCSE years, so we are really proud of the determination and diligence throughout the whole exam period. I am really pleased that a huge number of decided to stay on to our Post 16 provision.
From next week, our Year 10 students will no longer have 'Morning Welcome' they will move straight to their tutor time which will now include interventions to support with their core subjects. This will mean that Year 9 will now have their 'Morning Welcome' in the Gym and Year 7 and 8 will continue in the Sports hall.
Preparations this week have been underway for Sports Day. We look forward to this taking place next Friday 1st July.
As always, I hope you are able to enjoy a relaxing weekend,
Best wishes,
Paul Skipp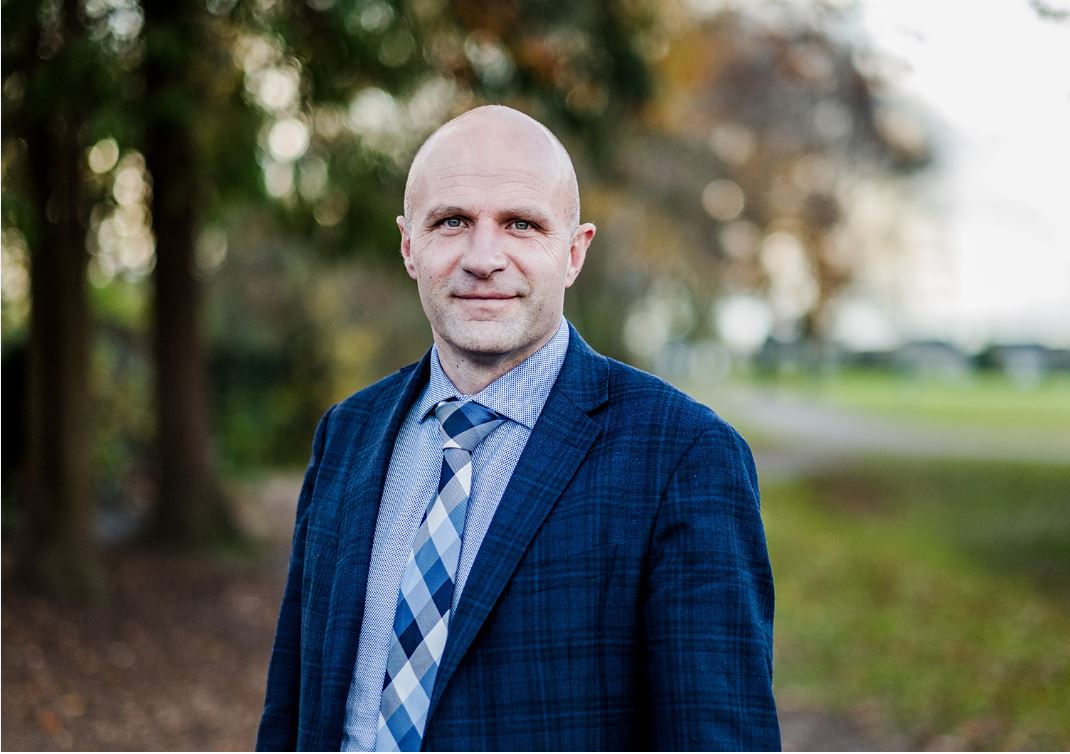 Headteacher
24 Jun 2022

Guard Your Heart by Sue Divin
Family Fund is the UK's largest charity providing grants for families raising disabled or seriously ill children and young people. Their mission is to provide items and services to all low-income families in the UK raising disabled or seriously ill children, that they could not otherwise afford or access, and that help improve their quality of life. They provide grants for a wide range of items, such as washing machines, sensory toys, family breaks, bedding, tablets, furniture, outdoor play equipment, clothing and computers. It can be a struggle financially, emotionally and physically for families raising a disabled or seriously ill child, and these grants help break down many of the barriers families face, improving their quality of life and easing the additional daily pressures.
You can find more information on their website: https://www.familyfund.org.uk/our-mission
Vicky Marshall
SENCo
As a school we took 56 students to Bath University to compete in the West Wiltshire schools athletics competition, there were a lot of fantastic results. However, the highlight from all of our teams were the year 7 boys who won there division outright and Frankie Pethers who set a new area record in the 150m. It was great to see this event up and running after being postponed for the last 3 years and some great practice for sports day next week.
Thank you to all students involved.

It was also great to see ex-John of Gaunt student, national champion and Olympic finalist Tom Gale at the athletics. Who can be seen in the photo below with Lucas Frisby who won the High Jump…… No pressure Lucas.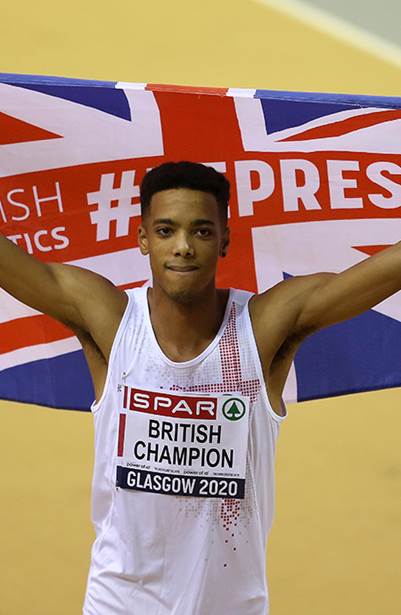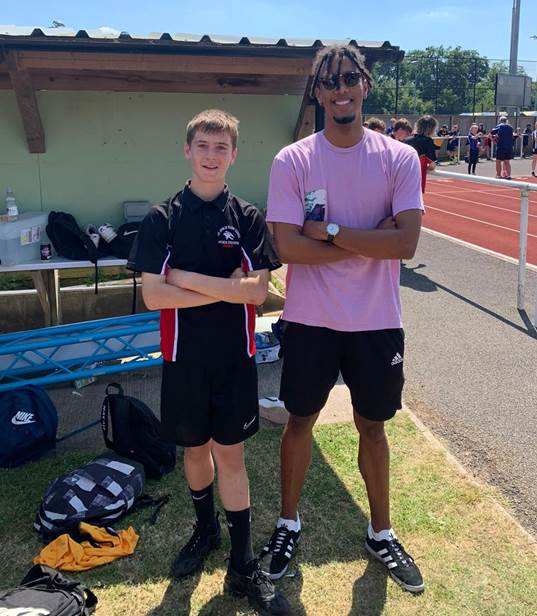 Year 11 last day celebrations
We are so incredibly proud of our year group! Today they finished their final exam - all students behaved perfectly! We then took the students onto the field to start the tradition of shirt signing, as well as being able to enjoy the inflatable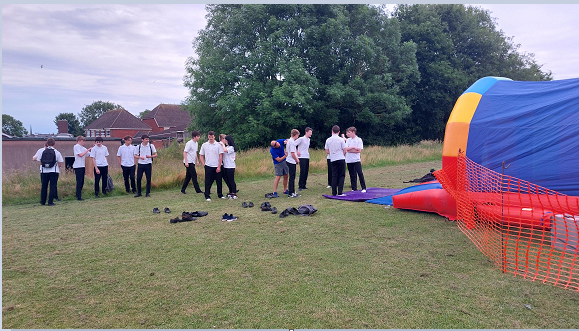 assault course, courtesy of Active Trowbridge. During break, our students took the opportunity to find some of their favourite teachers to say thank you and goodbye. The students also had the chance to create a keyring as a souvenir of their time at JOG, with the help of Mrs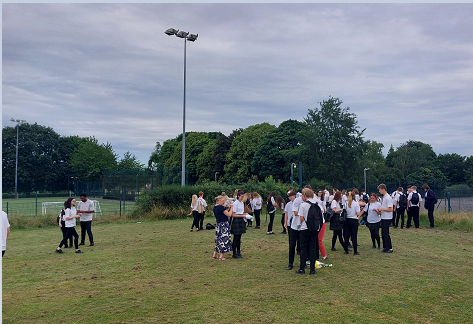 Knee, our Head of Art.
After break, we all met up in the hall for our leavers' assembly. We had a quick quiz based on key events from 2017 - the year our students joined JOG. The students then enjoyed a game of guess the baby photo - including several members of our year team! We then gave out certificates based on awards which were voted for by all the JOG staff.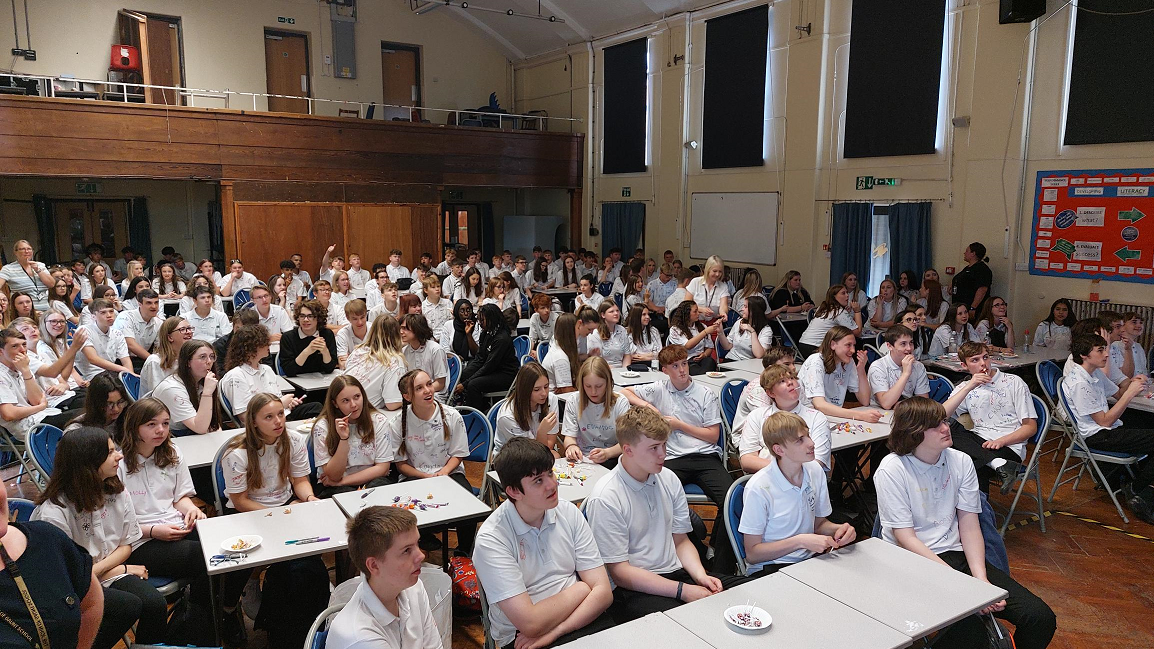 After a few more thank you messages, including a very emotional one from Miss Martin who is currently on maternity leave, we all headed back out onto the field. The staff enjoyed using the confetti cannons to celebrate with the students! Before the students left they spent some time signing more shirts, using the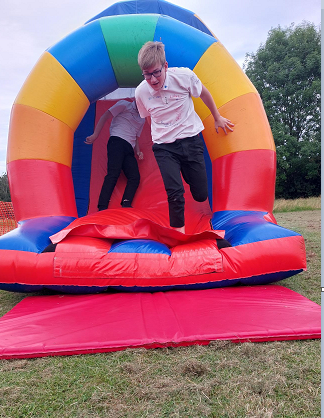 assault course, taking photos, playing football and saying more goodbyes.
As a year team we are very proud of all our students. It has been an absolute pleasure working with them during the last 4 years. We look forward to seeing many of them at our Prom on 14th July, and we know that many of them are retuning to JOG in September to join our Sixth Form. We would like to wish them all lots of happiness in the future.
The Year 11 Team.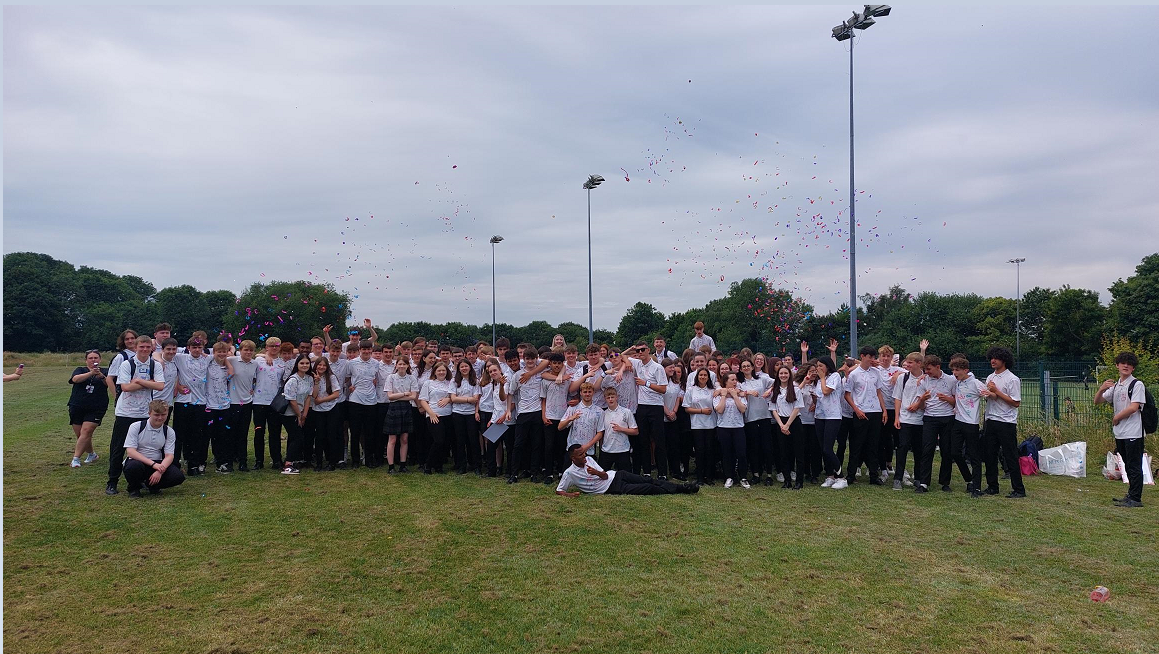 Congratulations to the U13 girls rugby team who competed in a touch rugby tournament this evening at Melksham Oak which was a part of the West Wilts School competition. We had a mixture of experiences with some students only having touched a rugby ball in their PE lesson in December! So it was a great experience for all.
We played several matches and ended up winning the competition! We are now through to the final which will be held later this month. The team decided that Isabel Magill deserved player of the tournament. I am so proud of the girls & the team work they showed this evening. We're very much looking forward to the next round!
Miss Lewis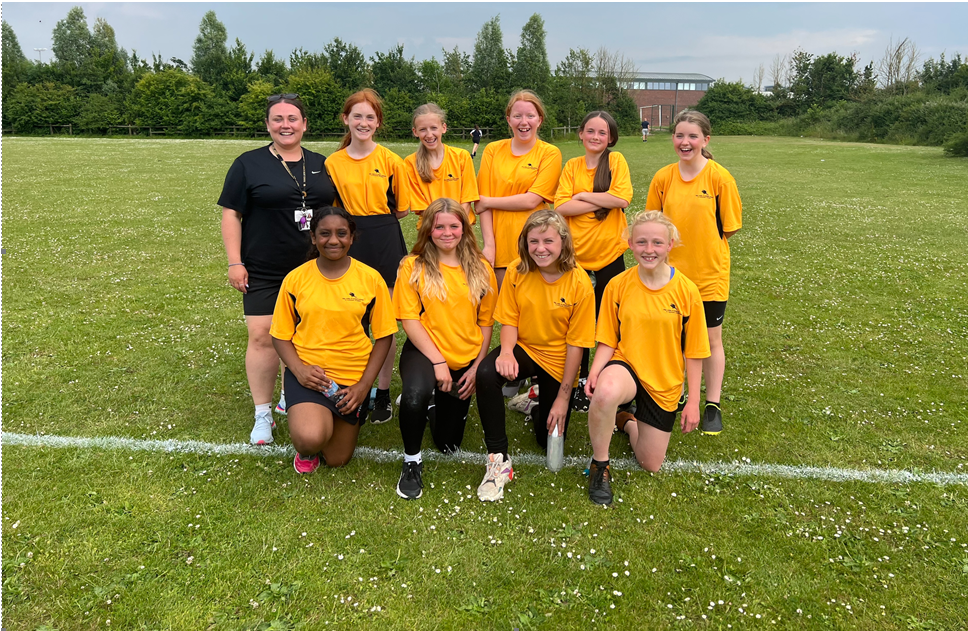 Year 12 are starting to think seriously about their next steps and what direction they might like to take this time next year. With that in mind, we invited Will Shepherd in to school to talk to the Year 12 A Level Business students about the pathway he has chosen. After finishing A Levels in 2021, Will had the choice of going to university to do a degree in Economics, or completing a degree apprenticeship programme with the government. He decided that for him, the apprenticeship route was better.
Will talked to the group all about his work, the degree programme and what a typical day and week looks like. Although we heard about his work and studies, we were also pleased to hear about his work-life balance and his very active student social life! He told the group about the pros and cons of each option and why he now knows he made the right choice, for him. The group had loads of questions for Will at the end of his talk – which was great, he had obviously given them some food for thought!
Thanks so much to Will for giving his time and sharing his experience with us.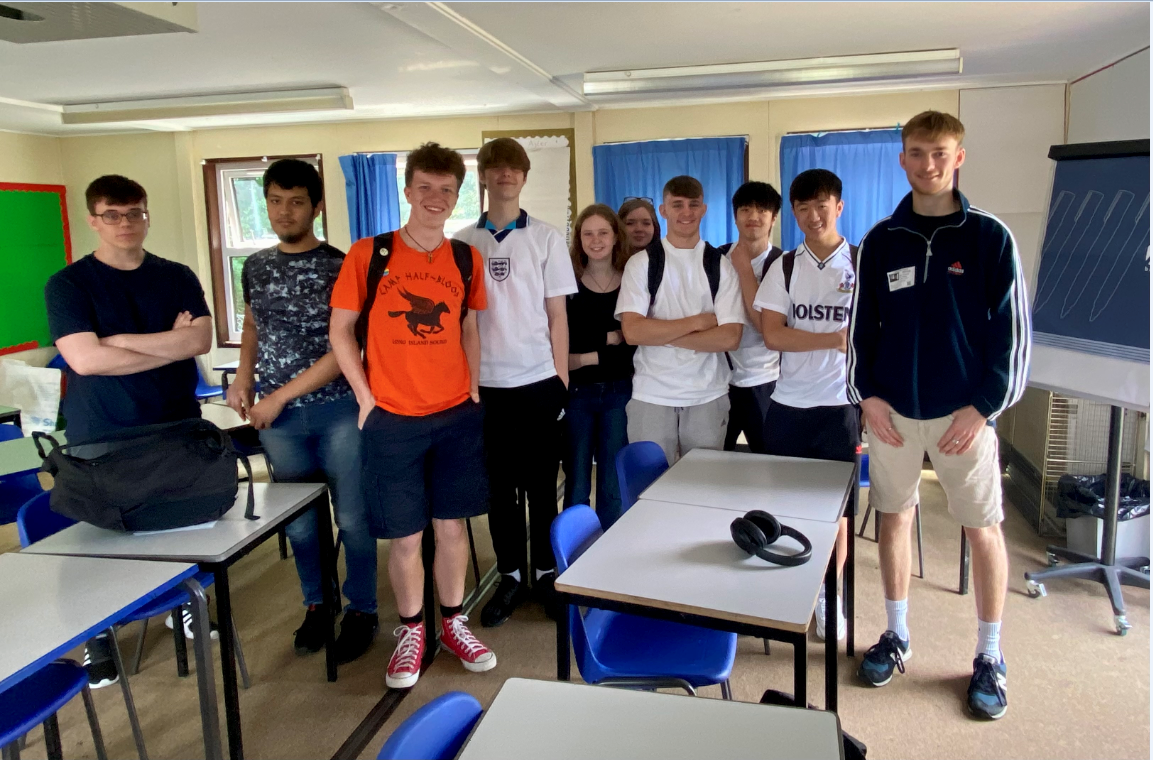 This week during STEM club, the students visited the cooking room again! They were investigating gluten formation in different types of flour.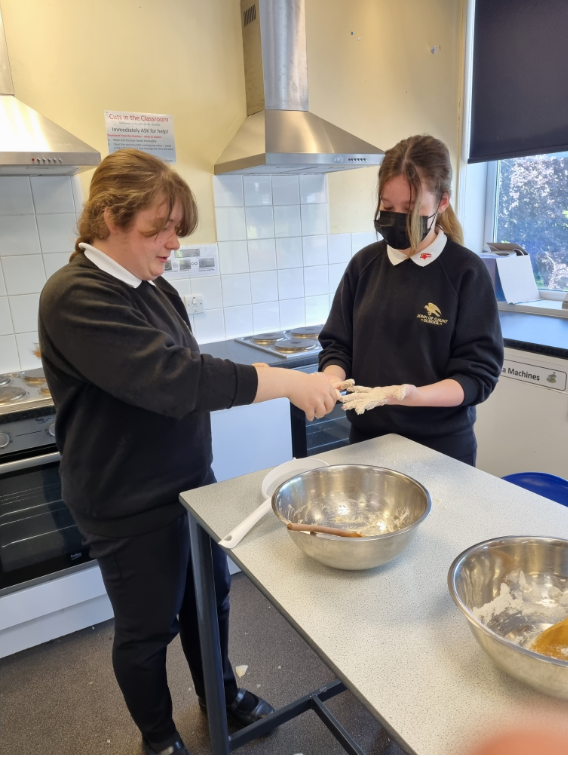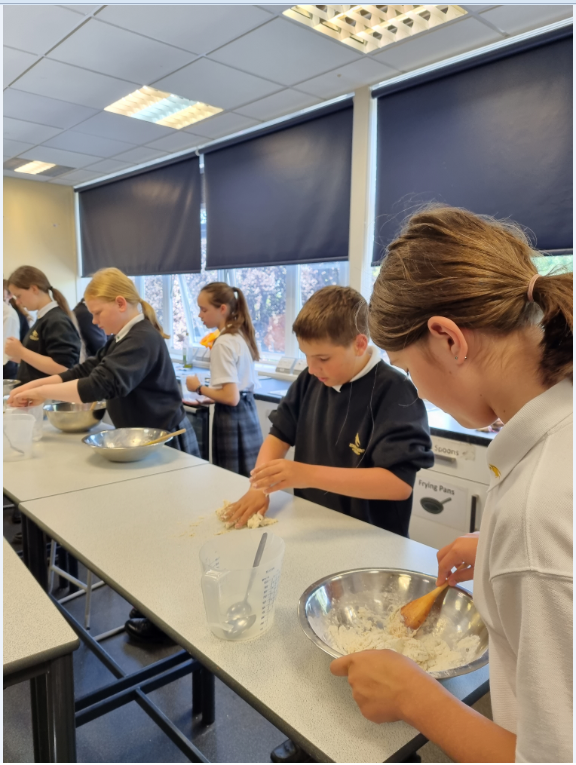 Our Cricket team did us proud again tonight, a mix of years again playing a group of year 10 boys, all cricket players. We played a full 100 ball match, Frome batted first this time and set us a score of 89, meaning we needed 90 to win. This was seriously good from our bowlers, it meant we needed less than a run per ball. Dan Maplesden the pick of the bowlers, amazing leg spin. Jordan Moran with a great catch too. Jimmy opened the batting and scored very, very well, with some others able to stick around with him. JOG had to retire him after a while as we agreed before, we lost our remaining wickets whilst still scoring some runs, and we bought Jimmy back at the end. It went down to the FINAL over. We needed 14 from it, a couple of fours and some singles, left us needing 5 off the last ball. Jimmy facing. He hit a great shot, it looked to be flying over the boundary, however the fielder managed to keep his feet in play and palm the ball back into the field. JOG lost narrowly on the last ball.
Progress from last week, and we'll be playing again soon! Another great fixture.
Mr Smith proud of all the players and well done again to the year 7s and 8s for stepping up.
The government has started a 13-week consultation process on the proposals within the SEND green paper, which closes on 22nd July 2022. The Wiltshire Parent Carer Council is keen to submit a response to the consultation on behalf of Wiltshire parent carers and to enable them to do this, they have arranged three face to face sessions for parent carers to attend and contribute their views. You can find out the dates of the sessions and book a space using the following link: www.surveymonkey.co.uk/r/SEND-Review-2022
Dear Parent/Guardian,
Your Year 9 child is now due the routine vaccinations Diphtheria, Tetanus and Polio (DTP) and Meningitis ACWY (MenACWY), these will be delivered by the School Aged Immunisation Team of Nurses, at John of Gaunt on 5th July 2022.
For more information and to enable your child to receive these important vaccines it is essential that you complete the online consent following the link below.
If you do not want your child to receive the vaccines then please also complete a form stating that you do not want them to receive the vaccine, this will ensure it is recorded on your child's record, and you will not receive any direct follow up from our team.
https://schoolimms.hcrgcaregroup.com/dtp/2021/wilts
The link for the consent for your child's school will close at midnight on 28th June 2022 - this is to ensure safe and efficient planning of the session therefore please ensure it is completed before this time to avoid disappointment.
If the link is not working for you:
Try to copy and paste it into your internet address bar.
If it continues not to work, or you are experiencing any other problems, please contact our designated team on 0300 247 0082 for support.
Thank you
School Aged Immunisation Team
Supporting Careers Education, Information, Advice and Guidance at JoG

Starting 5th July, Lloyds Banking Group is hosting a series of monthly career spotlight events. Lloyds Careers Live is an online event for students and parents exploring a new career area every month, interviews with apprentices and graduates working in that sector so that students and parents can ask questions and support their career thinking.
Careers Live will run 6.30pm -7.30pm starting Tuesday 5th July and will feature a different career on the first Tuesday of every month. July will explore "careers in cybersecurity", August "careers in commercial banking", September "careers in Data Science & Analytics. A great opportunity for students to understand what it's like to work in these sectors, the skills needed and the potential for future growth & progress.
All three events are now open for registration. Booking link is here LBG Careers Live (explorelbg.co.uk)