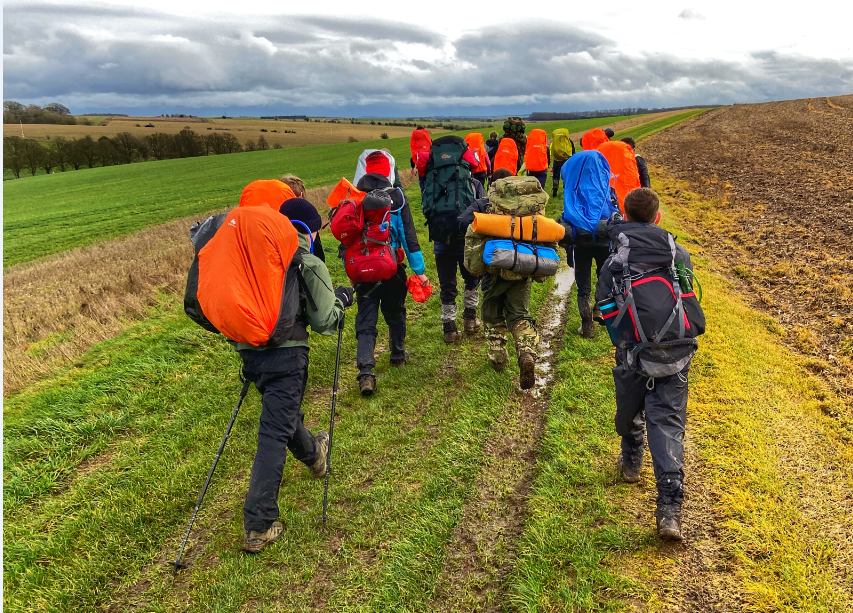 Ten Tors 2023 - First Weekend Camping Expedition!
On Saturday 14th October, 29 hardy students set off in the blustery rain traversing the Imber Range Perimeter Path - a 32-mile (the older students did about 36 miles) circuit of eastern Sailsbury Plain. With a camp planned after 20 miles at Chitterne, students' bags were bursting with stoves, sleeping bags, tents, food and water and soon the increase in weight began to take its toll on students' legs and feet.
The weather was unkind on Saturday, the wet wind hammering the students as they passed along the top of Bratton and the White Horse, through Gore Cross and past Tilshead petrol station. After some muddy miles the group arrived at the campsite in Chitterne (Lady Gooch's paddock!) and began to get their dinners cooked. The camping was superb - we've rarely had a group which demonstrated such good teamwork - helping each other light their stoves, cook their food and get their tents up. The students were quiet and civilised during the evening and their tiredness led to a quiet night with early bedtimes.
Sunday was cold and crisp but dry and a beautiful winter light played across the Wiltshire chalk hills as we passed along through the hill forts outside Warminster. By this point this notoriously challenging hike had claimed several victims and as the last students climbed up past Warminster golf course and back to their minibuses a sense of pride and achievement was felt by those still going.
A huge well done to all those who pushed themselves to their limits this weekend, and we were particularly delighted with the teamwork and cleanliness of the campsite. As always, a massive thank you to "Smoky" Bill Smith, Iain Richards, Mrs Brooks, Xavier Lord and Lady Gooch for the overnight accommodation and toilet facilities.
Excited about Dartmoor next week!
For a wonderful range of photos please click