A very proud John of Gaunt School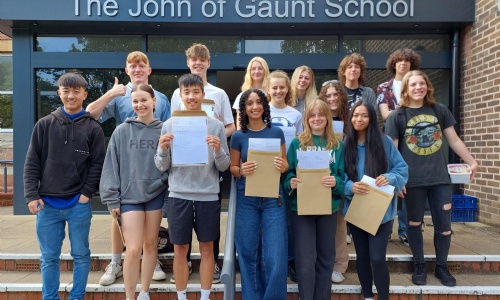 The John of Gaunt School are delighted to report the wonderful achievements of their students at Post 16.
In a year when exam boards, under the steer of the government, have been working to bring exam outcomes in line with the pre-pandemic results of 2019, The John of Gaunt School are proud to report our students have risen to the challenge and improved on the school's results in that year.
20% of our students have an average grade of A* or A, 50% of our students have an average grade of B or above and over two thirds of all our grades are A* - C.
This has resulted in 98% of students who have applied for university being offered their place.
Ben Rhodes, Headteacher said, "I am so proud the way our students have stepped up to the challenges of their exams this year. Staff, students and parents have worked together, in partnership, over the last two years to ensure our students were as prepared as they could be, and I am so pleased for them and the results they have achieved. I wish all our students well on the next stage of their lives and look forward to hearing how they progress. It is with pride that I comment on yet another set of excellent results for The John of Gaunt School; to have two students going to Oxford University is outstanding, but we will not stop striving for further improvement to our outcomes and the experiences we provide our students. This progressive characteristic of the school is something our excellent reputation is built on, and we relish the opportunities that lie ahead."
The school saw sterling performances from Tyra Donaldson (A*, A*, A), Georgia Stevens (Distinction*, A*, A) and Ruby Taylor (A*, A*, A). Tyra and Ruby are the students moving onto Oxford University where Tyra will read Earth Sciences, and Ruby, Psychology and Philosophy. Georgia is taking a place at the University of Nottingham to read Chemistry.
Mrs Taylor said, "Ruby has worked incredibly hard and deserves her place at Oxford University. We are all so proud of her achievements and thank all the staff at The John of Gaunt School for their support".
Nicky Lu (A*, A, B) and Vincent Cheng (Distinction* A, B), are both going to Bristol University where Nicky will read Law, and Vincent, Economics and Finance. Charlotte Smith (A*, A, B) will read Sociology at Exeter University.
Linda Baines, Assistant Headteacher, said, "Congratulations to our students, their families, and our staff. Together, everyone has worked really hard to ensure students were fully prepared for their exams. For many of our students these were the first external exams they had sat due to the Pandemic, and this came with added pressure. I wish all of our students every success for their future paths, whether that be university or employment."