Protecting our students. IMPORTANT MESSAGE.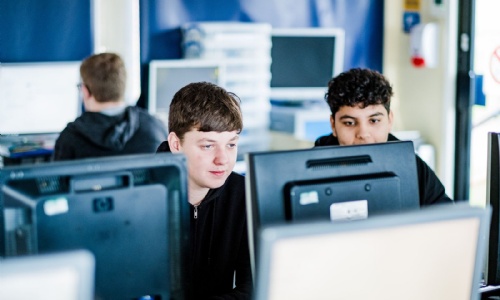 Good day to you all,
Our assembly topic this week has been on "Safer internet Day", a day dedicated to keeping ourselves safe online. With how much we are relying on the use of the internet and remote learning through the use of Microsoft Teams now more than ever we need to ensure that we are ensuring that the safety of our students and staff is of the upmost importance.
During live Teams lessons students are asked to turn available cameras on to help identify that the person logged in is the right student and so that staff can see that students are taking part in the lesson and to help see if students might be struggling. This can at times be problematic for students if they are suffering with technical issues or anxiety about all students seeing them on camera and we work with you and students to help in any way we can and value their mental health above all else.
One concern for student safety and well-being at the moment is the use of mobile phones and social media during Teams lessons. During the school day students would not be able to access mobile devices for social activities in school, however, it has become apparent that there have been occasions when some students are using these devices for other purposes instead of focusing on the lessons. This can impact on the learning and with a student's progress in addition to raising serious safeguarding concerns during live lessons. Where we become aware that this has happened we will address this directly with the student and parents.
The remote learning that takes place over Microsoft Teams is a very secure way of bringing both staff and students together within the privacy of our own homes as only invited members of a group can gain access to the video call, see and communicate with each other. One reported concern raised by a number of schools and families relates to the possibility of students making wrong choices during live lessons by capturing images of Teams lessons and sharing them on social media. We all have a right to our privacy. Any capturing of images/sounds or the sharing of personal information from lessons is not only illegal but morally wrong.
The government and school are working constantly to help supply students with equipment so that mobile devices do not need to be used in a lesson. We ask that if your son/daughter does not need to use a mobile device to access the remote learning that they should be put away during lessons so that there is no temptation to make negative choices that could affect their learning or cause breaches of privacy for all taking part in the on-line learning session.
Thank you and please Stay safe online
Mr Roberts
Director of Learning Computing and Business.