First Festival of Literature at The John of Gaunt School ​​​​​​​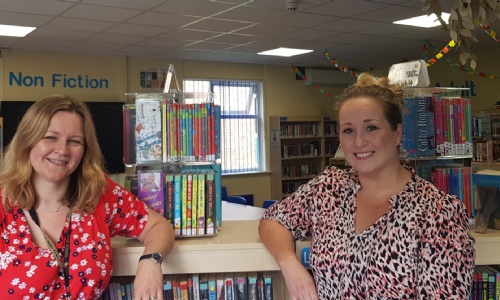 The Word, The John of Gaunt School's first literature festival, is set to inspire students with a rich programme of activities between 12th to 14th July.
Headline acts feature champion slam poet, Ash Dickinson, and Carnegie shortlisted author, Chris Vick. A taste of the fringe activities includes a Book & Bake Takeaway, a staff guess-who in literary costume and a school-wide creative writing competition centred on the school's majestic icon – the falcon.
Mrs Eagle, Event Organiser and English Teacher, says: "With Covid in mind, we've aimed for an ambitious array of activities for students to celebrate both the spoken and written word in school." Mrs Bruton, Learning Resources Manager, adds: "With World Book Day being in lock-down, this is a fantastic opportunity for us to now celebrate properly the joy that reading can bring!"
Last month, The John of Gaunt School English Faculty was thrilled to have been shortlisted for 'English Team of the Year' in the TES Schools Awards. Creating a literature festival was the inspiration of Mrs Gilvin, Director of Learning for English.
Mr Paul Skipp, Head Teacher comments: "Organising The Word in the final term of a challenging year with the pandemic reflects the enthusiasm and dedication of our English team." He continues: "More widely across the school, we are aspiring for our students to experience a broad range of enrichment activities as the restrictions around Covid are lifting. All our staff have been working extremely hard on events such as Sports Day, Diversity Week, field trips and our end of term Activities Week."
The John of Gaunt School would like to thank its literature festival sponsors: Garstons Vets, We Love Pets Trowbridge and Tymbark Supermarket. This support will help fund prizes for students and create a festival feel in school.
More information
Running between the 12th to the 14th July, headline acts will engage year groups in poetry workshops and author insight sessions. Further pop-up style fringe activities will run across the site. Here is the programme for The Word*:
Year 7 author insight sessions with Chris Vick
Year 8 poetry workshops with Ash Dickinson
Year 9 author insight sessions with Chris Vick
Year 9 library visits
Year 10 theatre trip to see The Woman In Black (8 July)
Year 10 outdoor reading lounge
Year 10 Spoken Language assessments (16th July)
Staff guess-who in literary costume
Years 7 to 10 The Word Bird writing competition
Book and Bake Take Away
The John of Gaunt School, Trowbridge https://www.johnofgauntschool.org/
Ash Dickinson https://ashdickinson.com/about/
Chris Vick https://christophervick12.wixsite.com/website
For more information, please contact leagle@jogschool.org
* Activities may be subject to change.